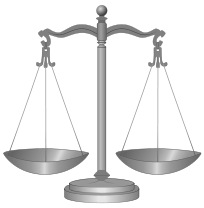 Whether initiating trademark litigation on your behalf or defending a lawsuit brought against you, Ruth and her associates have the knowledge to handle complex cases, and the business knowledge to understand what these cases mean to you. We litigate every kind of dispute in this field – from trademark, service mark, and trade dress infringement to cyber-piracy to trade secrets to unfair competition.
The best lawyers will keep you out of court, while protecting your rights and improving your outcomes.  They do this because they have spent enough time in court to know how to win early and often, how to negotiate hard, and how to help their clients make decisions that they can live with.
Ruth Mae Finch, Esquire has over 36 years of experience before both civil and criminal courts and juries at all levels – state and federal.  We have successfully represented both family businesses and Fortune 500 companies.
We handle all phases of trademark litigation, including applications for emergency injunctive relief (temporary restraining orders, preliminary injunctions and seizures), declaratory judgment proceedings, trials and appeals. We litigate cases in courts throughout the United States using local associates (venue can matter a lot, talk to us in case it matters to you).
In the realm of e-commerce, we have successfully litigated domain name disputes through the Uniform Dispute Resolution Policy and cases under the Anti-Cybersquatter Consumer Protection Act as well as those involving keyword advertising and social media sites.
Don't struggle alone – we can help reduce your risks and maximize any payback.
"If you want a deal, send a man. If you want a great deal, send a woman.  
Dan Twomey, Esquire